17 Best Bars in Raleigh, NC
Posted by Ryan Fitzgerald on Tuesday, February 7, 2023 at 7:30 AM
By Ryan Fitzgerald / February 7, 2023
Comment
Best Bars In Raleigh: Your Nightlife Guide
Have you been looking for the best bar for a night out in Raleigh? Continue reading our guide to learn more about the bars and nightlife if you plan to move to Raleigh!
In Raleigh, NC, there is always something to do. The amount of Nightlife opportunities in Raleigh makes it so that you can enjoy your night out, no matter the occasion.
While our website primarily focuses on helping people buy and sell real estate, we have grown to love creating content for people about our great city of Raleigh.
In this guide, we have put together a list of the best bars in Raleigh so that you don't have to. We set out on a mission to find you the best places for a night out, date night, girl's night, or celebration. Since there is always something to do in Raleigh, we've got you covered whether you're looking for a bar, club, or brewery!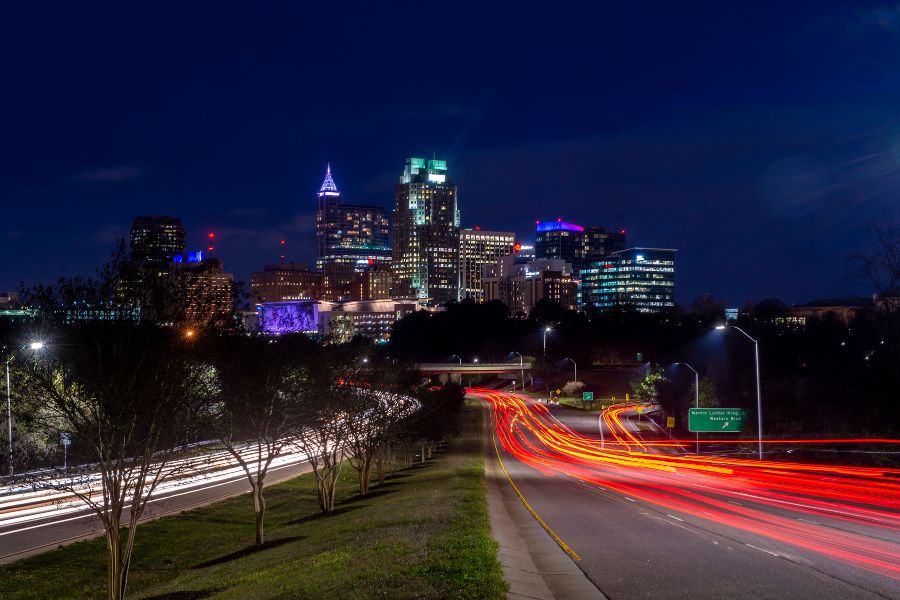 Check out these top-rated bars in Raleigh!
Clouds Brewing
Clouds Brewing is one of the most popular breweries/taprooms in Raleigh! They originally opened their downtown Raleigh location in 2014, and it has been a hit ever since. Their menu is German-inspired, with 20 of their own brews and ten guest taps.
They serve brunch on Saturdays and Sundays from 11 AM - 3 PM, offer mainly weekly specials, and even have trivia on Wednesdays! Specials include a $10 brunch bloody mary, %15 brunch mimosa carafes, 1/2 priced bottles of wine on Thursday, and more!
Trophy Brewing & Pizza
Owners Chris and Woody dreamed of opening a brewery that produced exciting beers and helped progress the beer scene in North Carolina. It was in 2013 that their dream finally came true. When Trophy Brewing and Pizza opened, it began as a private club with an occupancy of 14. They then expanded and opened young hearts, distilling, and state of beer.
Trophy Brewing and Pizza has 18 drafts, cans, wine, and cocktails. They have an extensive menu of pizzas and more if you get hungry while enjoying your delicious beverage. They have specialty pizzas, create-your-own pizzas, salads, small plates, and desserts! My favorite is the Margherita Pizza!
Trophy brewing and pizza on West Morgan St. is the perfect place to visit on the weekend to enjoy the fresh air, warm fire pits, and a relaxing day.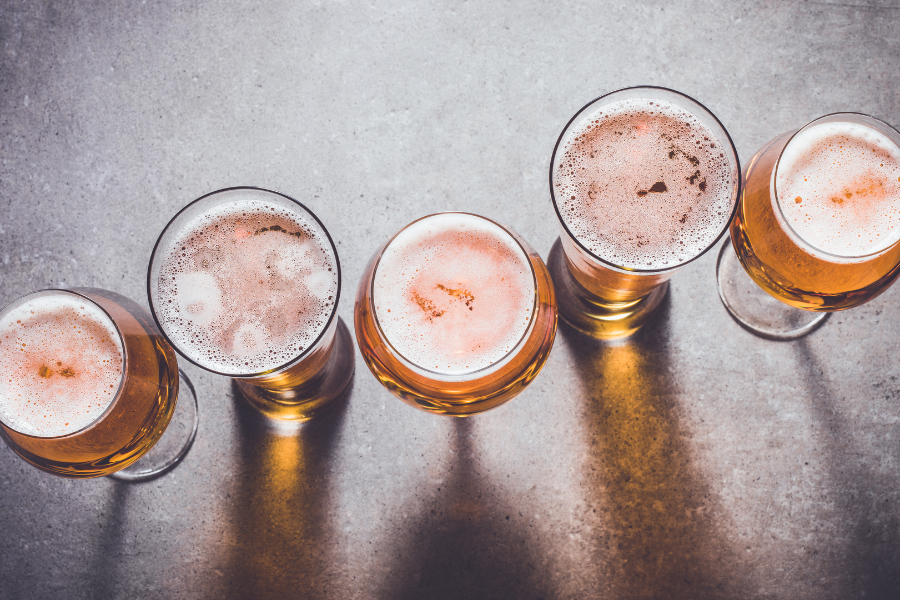 Level7
If you're looking for an incredible view, Level7 has you covered! Located at the AC Hotel, they have created a unique and energized space for samplings from small-batch distillers, rock-star brewers, and single vineyard labels.s The view from the rooftop is breathtaking and overlooks the North Hills neighborhood.
They have a delicious menu of meat and cheese, toast, salads, small plates, flatbreads, and sweets if you get hungry. I recommend trying the crispy potatoes - herbs, smoked paprika, fennel pollen roasted garlic aioli.
You can also host events for 25 people or more in their semi-private event space!
Tin Roof
If you enjoy live music, Tin Roof is the place for you! Live music is offered every night at Tin Roof with a mix of local, regional, and national artists across all genres. If you're not a fan of live music, you can enjoy a rotation of DJs on the rooftop!
Tin Roof is also a full-service restaurant! You can head on over during the day and the nighttime to get a taste of their delicious "better than bar food.: The menu highlights are wings & tenders, quesadillas, and Nashville hot chicken. Some drink specials include $5 Margaritas on Tuesdays and $4 tall boy beers on Thursdays!
Raleigh Beer Garden
Whether you're looking for a place to bring your family and pets during the day or a place to enjoy a date night, Raleigh Beer Garden is the place to be. As a three-time Guinness world record holder in two categories and having over 350 beers on tap, it's safe to say that the Raleigh Beer Garden has something for everyone to enjoy!
The first floor at the Raleigh Beer Garden features 144 North Carolina draft taps. If you make your way to the second floor, you will find the "international" floor, offering 222 varieties. Traveling up to the roof, you will also be met with 12 rotating taps, and the event field in the back provides a 24-tap system. That's a lot of beer! The first floor also has a large spirits bar for those who don't enjoy beer.
If you visit the beer garden for food, the menu offers appetizers, salads, pizzas, burgers, sandwiches, entrees, brunch, and snacks for your furry friends!
Bowstring Pizza and Brewyard
Bowstring Pizza and Brewyard is one of the best places in Raleigh to enjoy a nice sunny day, drink your favorite beverage, and eat delicious pizza! Their patios, picnic tables, and yard games make Bowstring the perfect place to enjoy the day with your family or hang out with friends! They have created a welcoming and fun environment for people of all ages!
Bowstring offers rotating taps of your favorite local and national craft brews, an extensive cocktail list, and wine & rose by the glass. Cans and bottles available daily include Miller Lite, Bug light, Mich ultra, twisted tea, storm brew, non-alcoholic options, and more!
When you get hungry after a fun day of playing games, the Bowstring Pizza Bus offers various pizza options, wings, garlic knots, and mozzarella sticks!
Bowstring also has live and recurring events! They have live music by local artists and bands, trivia night on Tuesdays, and fitness classes every Saturday and Sunday!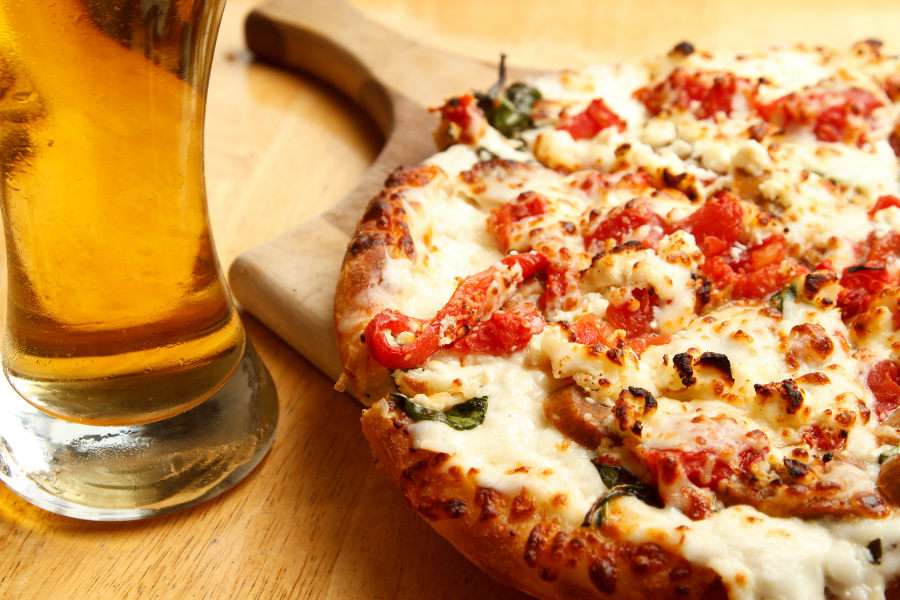 Botanical Lounge
Botanical Lounge is located on Glenwood Ave and serves tapas, wine, and spirits. They are open Wednesday - Sunday from 4 PM - 2 AM, so there's plenty of time to stop by! They can hold up to 140 guests inside and even offer an indoor/outdoor experience on their patio. At Botanical Lounge, they specialize in craft cocktails, a full champagne bar, tapas-style small bites, and an indoor/outdoor lounge.
The drink menu is extensive and has something for everyone to enjoy. They serve cocktails, Drought cocktails, sought wine, wine by the glass, bottles/cans, wine by the bottle (red, white, and sparkling), sangria, and draft beer.
Botanical Lounge is an amazing atmosphere to enjoy the views of Glenwood with your best friends!
10th & Terrace
10th & Terrace is located atop the residence inn in Downtown Raleigh. It is a rooftop bar with heaters and comfy couches to lounge on while you snack and drink.
I highly recommend their Sesame Ahi Tuna Tataki, served with seaweed salad, pickled ginger, and wasabi aioli! When it comes to drinks, they serve their signature cocktails, draft cocktails, draft beers, craft, specialty beers, and wine! The bartenders are experienced, so if you're craving a cocktail off the menu, odds are they can make it for you!
Watts and Ward
Watts and Ward is decorated and furnished to remind you of a prohibition-era speakeasy. It's the perfect place and ambiance for a nightcap, girl's night, date night, or any special occasion! The speakeasy features different rooms, including a study, a parlor, and an outdoor area to maximize the space and theme.
At Watts and Ward, they serve house cocktails, classic cocktails, zero-proof cocktails, beer, and wine! We recommend trying the run cannonball, made with their secret rum blend, allspice, and tiki bitters. The Espresso MartiNO is the perfect drink for the night's designated drivers. The "cocktail" is made with seedlip spice 94, cold brew, syrup, and nutmeg!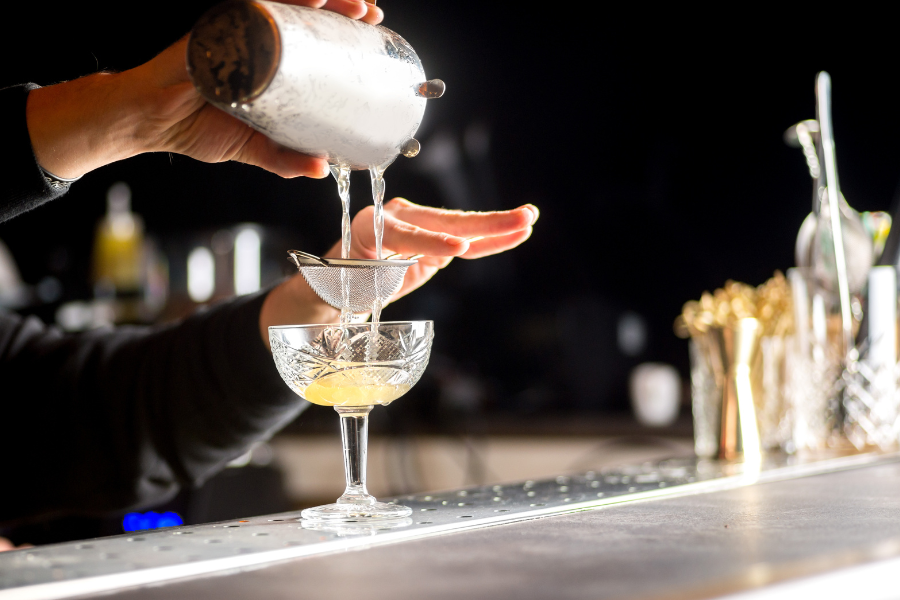 Dram & Draught
If any whiskey fanatics are reading this, I highly recommend Dram & Draught. Their drink menu features over 300 whiskeys from around the world, so you are sure to find your new favorites! Aside from whiskey, they serve hand-crafted cocktails, draught beer from Raleigh and beyond, and wine! Luckily enough, they are open seven days a week, so they're ready for you whenever you stop by!
The space is small and relaxed, making it the perfect place to catch up with friends, family, or coworkers.
Dogwood Bar and Eatery
Dogwood Bar and Eatery is an indoor/outdoor experience, offering an outdoor law and event space and an indoor bar and dance floor. Dogs are welcome if you're visiting during the day, making this the perfect place for weekend mimosas or yoga classes with Oak City Yoga. During the colder seasons, the outdoor area is equipped with fire pits to keep you and your company nice and toasty.
At Dogwood, they serve regular house cocktails, wine and bubbles, draft beer, and craft cocktails.
The Blind Barbour
The Blind Barbour has an extensive menu of whiskeys, specialty cocktails, antique spirits, and more! The bar is small but extremely welcoming. The staff is always friendly, and the people always have a great time.
Stop by for a nightcap or girl's night!
HALCYON Bar + Lounge
Halcyon Bar and Lounge is an upscale cocktail lounge right off Glenwood South. They serve premium cocktails, wines, and local drafts. Their exclusive upper Lounge is perfect for corporate networking receptions, social events, celebrations, and more.
I recommend Peach on the Beach! The cocktail is made with Ciroc peach vodka, peach schnapps, and orange juice mixed with cranberry juice.
From Wednesday - Sunday, Halcyon has live music and DJs for your entertainment.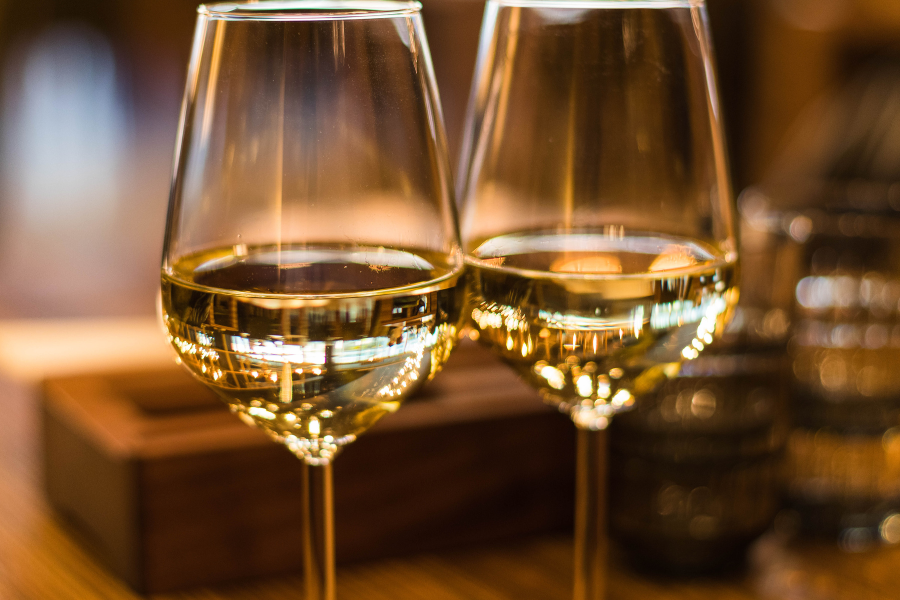 The Architect Bar and Social House
The Architect Bar and Social House has everything from craft brews to great cocktails to a fun DJ. This is an excellent choice for people looking to get out, dance, and meet new people.
The drink menu is ever-changing, so check out their cocktail specials when you stop by! People visit the Architect to enjoy the historical setting, which dates back to 1922, with modern music and drinks.
KillJoy
Killjoy features a wide assortment of craft cocktails, wines, beers, specialty shots, cocktail towers, tasting flights, and mocktails. One of my favorite crafted shots is the gingerbread shot, made with tequila, amaretto, house-made gingerbread simple syrup, and chocolate liqueur.
You can use the space at Killjoy to host your next event. They can accommodate parties of most sizes, ranging from small gatherings to celebrations of 150 guests. Additionally, they host cocktail classes for $45
For the price of $250, you can join their exclusive heartbreakers club, which gives you access to $700 in special perks, including complimentary champagne on your birthday, a complimentary two-house private event, reserved tables, attire, and more.
The Haymaker
The Haymaker is located on Fayetteville Street and offers delicious drinks, memberships, private tables, and more! Their drink menu includes winter specials, barreled cocktails, shots, beer, and wine! I recommend trying their frozen tropical margarita before it's too late! The drink is made with Milagro Blanco tequila, triple sec, mango, peach nectar, pineapple, and lime!
Every Friday at the Haymaker, you can enjoy the live DJ, a party with Shaun Henny on Thursdays, and an open mic comedy night on Wednesdays!
Circa 1888
Circa 1888 is conveniently located at the end of Davie Dt and has a 19th-century vibe. To keep you entertained, they have four pool tables and other games. The bar inside is dark and sultry, with brick and antique interiors. They serve typical bar beverages, including whiskey and craft beer.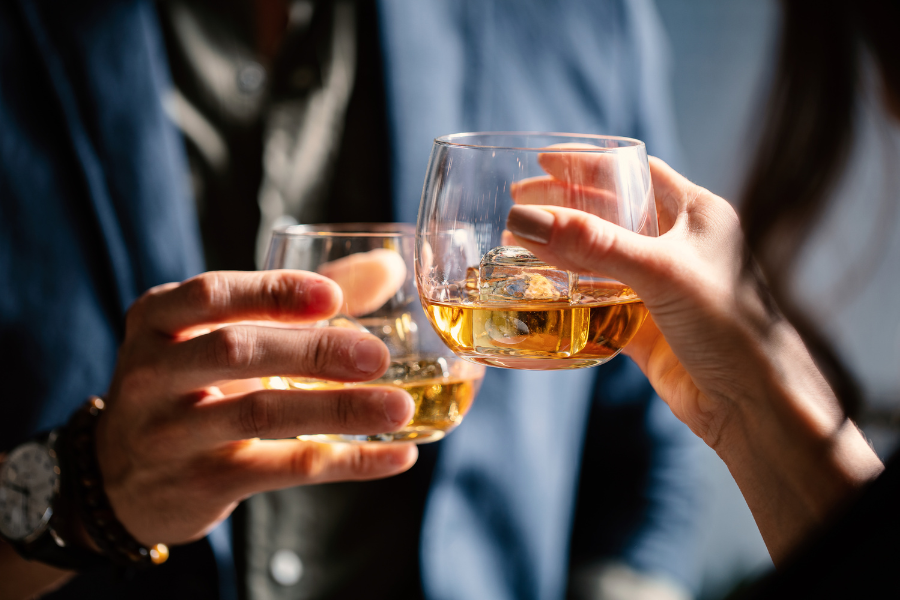 Nightlife in Raleigh - Final Thoughts
There's no doubt that the bar scene in Raleigh is like no other. On Glenwood and other famous streets, you will find various bars that offer their own unique experience. While picking out the best bars in Raleigh is hard, we hope our recommendations gave you an excellent place to start!
Exploring Raleigh is always fun and exciting. If you can check out some of these bars, let us know your thoughts! If you're interested in moving to Raleigh, contact us or check out our website for all your real estate needs!
Homes Raleigh is a local real estate company that specializes in helping those through the home buying and selling process. While that is our primary focus, we also provide helpful guides, tips, and tricks.
Check out the best restaurants and the best suburbs in Raleigh!