7 Best Beaches Near Raleigh
Posted by Ryan Fitzgerald on Wednesday, February 22, 2023 at 1:19 PM
By Ryan Fitzgerald / February 22, 2023
Comment
Best Beaches Near Raleigh
Are you considering moving to the Raleigh area for its close proximity to the coast? This guide will walk you through some of the best beaches near Raleigh, North Carolina!

Raleigh is known for its premier location. You can drive a couple of hours to the east and hit the most relaxing beaches, or you can drive two hours to the west and start to reach the mountains in North Carolina! Whether you're a beach person or a mountain person, living in Raleigh gives you easy access to those atmospheres!
Many people love the beach and what the coast has to offer! But if you're the type of person that loves everything about the shore without living in a beach town, Raleigh is an excellent destination for you then! Being able to live in a place that doesn't feel like a beachy area, but you can visit the beach for a day or so, has excellent benefits.
More than 70 people per day are moving into the Raleigh area. Some are coming for the warm weather, some for relocating jobs, or some simply because of Raleigh itself and everything surrounding it! Keep reading this guide to learn about the beach beaches a short drive from the state's capital!
Here are the seven best beaches near Raleigh!
Wilmington/Wrightsville
This beach town is probably one of North Carolina's most-known areas on the east coast! Not only because it is closest to Raleigh but because it is home to the University of North Carolina - Wilmington! Wrightsville and Wilmington are one and the same in this case!
Wrightsville Beach is hands down the most accessible beach to get to from Raleigh. If you take Interstate-40 all the way east, you will reach the ocean in just about two hours! This beach is one of North Carolina's busiest beaches in the warm seasons because of its easy access.
Wrightsville Beach's population is only around 2,500 permanent residents! Most homes located in this town are beach house rentals and only a few primary residents. It is truly a seasonal place. However, it is still so beautiful to visit during the off-season!
Wilmington is a popular place for people to call their permanent home. It is not directly on the waters but only a short drive to the water. It is known for its boardwalk, Riverwalk. Riverwalk is lined with shops, cafes, and bars. Downtown Wilmington is highly known for its bars and catering to a younger crowd, with the college being nearby.
Local Favorites:
Outer Banks
If you are looking for a beach town that is more secluded and has a relaxed environment, the Outer Banks is the perfect spot! This beach town is nothing like Wilmington or any "city-like" beach. It is just 100 plus miles of shoreline with seaside villages.
While exploring the Outer Banks beaches, you will notice how much the town cares for its history and natural land. You won't run into large boardwalks, large hotels blocking the views of the ocean, nightlife, major restaurants, etc. This is why tons of people love visiting Outer Banks. You go to strictly enjoy nature and the ocean!
Yes, the rumors are true! There are wild horses that walk the shorelines of the Outer Banks. More specifically, in Corolla, right next to the Outer Banks. The herds you may spot are made up of 100 Spanish Mustangs that live naturally off of the land. These horses have been around for hundreds of years and are what bring tourists to the area.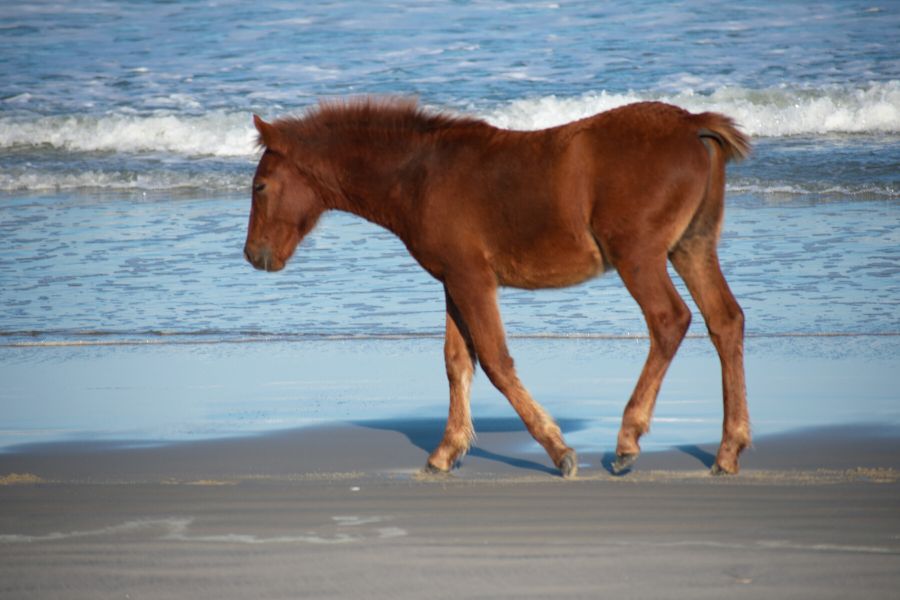 Local Favorites:
Topsail Island
Who doesn't love a beach town that takes care of its local sea turtles?! Topsail Island is known for its sea turtle preservation and conservation efforts. Along this 26-mile shore, Loggerhead sea turtles come ashore to nest and lay eggs between the months of April and September.
Topsail Island has been voted one of the most beautiful beaches in North Carolina! It is a quiet, laid-back beach town that allows you to visit it without dealing with flashy tall buildings or crowded boardwalks. It is the perfect destination for those who like the small beach.
Local Favorites:
Carolina Beach
This beach town is full of so much to do it'll blow your mind! Carolina Beach has a population of around 6,000 residents. This beach keeps growing and growing to become a more popular area to visit. It is located only eight miles from Wrightsville but has its own attractions.
While driving through Carolina Beach, you will see some of the most beautiful homes! They have tons of cute little communities within the area that are perfect for those who want to relocate there or buy a seasonal beach house.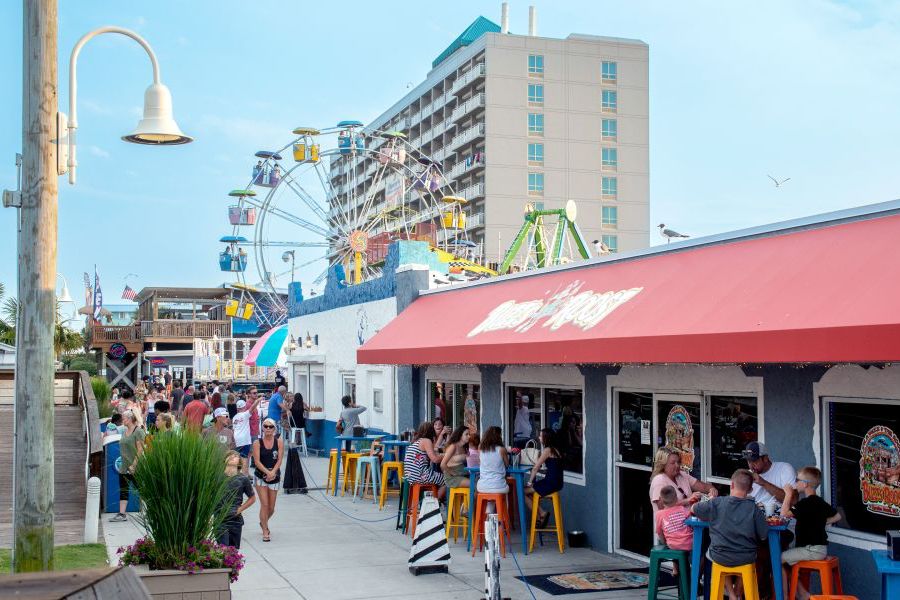 Carolina Beach is known for its fair that is visible as soon as you reach the town. You may hear some people refer to this area as "Pleasure Island." In Carolina Beach, you will find tons of adult nightlife fun. They are highly ranked when it comes to their bars that are literally on the beach!
While visiting Carolina Beach, they have an outdoor "mall" right on the boardwalk. You can walk around and visit all the surf shops, Brits Donuts, restaurants, and bars!
Local Favorites:
Emerald Isle
If you are looking for a beach destination that caters highly to families, Emerald Isle is the place for you! This beach is known for their abundance of fishing, watersports, and the wealth of marine life. You will find Emerald Isle in the southernmost part of the Outer Banks.
Yes, Emerald Isle is considered to be part of the Outer Banks. However, it has its own atmosphere and establishments! A unique thing about this beach town is the fact that it has two waterfront sides. If you go to one side of the town, you can view the sound, and if you go to the other side, you will meet the ocean.
Emerald Isle is well-known for its gem-like waters. Some people are curious as to why the ocean waters are green. We are here to tell you that you will find green-tinted waters on the shore of Emerald because of the sun reflecting off of microalgae that are found in the shallow waters. These organisms are extremely harmless!
Here are some destinations to visit while in Emerald Isle!
Local Favorites:
Sunset Beach
This beach is one of the smaller beaches in North Carolina. Sunset Beach is located relatively close to the South Carolina state border and North Myrtle Beach. Even though this small beach is near a busy, touristy beach area, Sunset Beach is a calm and relaxed atmosphere. This beach area is only active during its spring and summer seasons!
Sunset Beach is well-known for its amazing views, climate, and abundance of wildlife. It has also been named one of the '21 Best Beaches in the World' by National Geographic and is actually sitting at number five.
The biggest takeaway when visiting or relocating to Sunset Beach is the small town welcoming feel the area proposes. You will find tons of local things like shops, cafes, and history. Sunset Beach has tons of things for families and friends to enjoy during the warm season.
Come visit Sunset Beach between Memorial Day through Labor Day and experience its amazing amusement park and large boardwalk!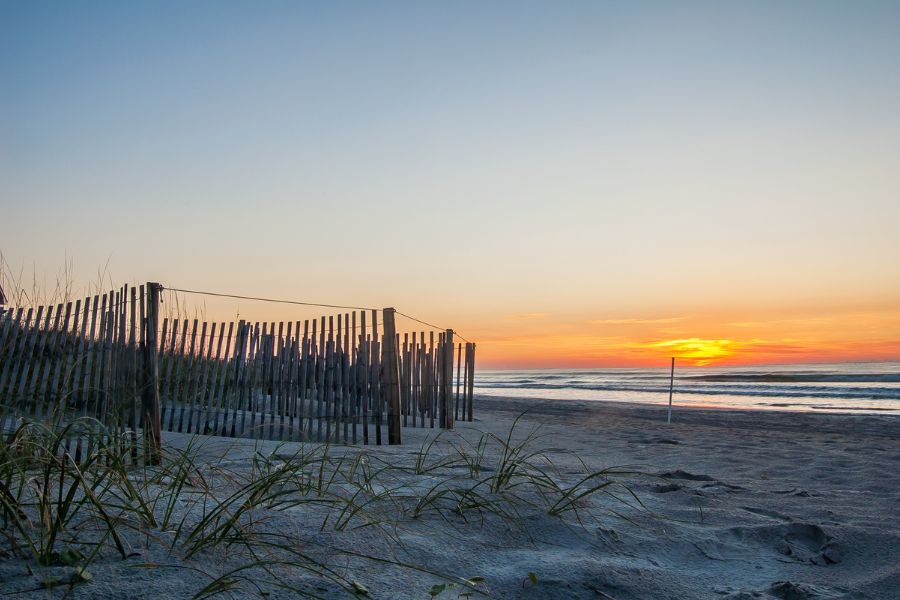 Local Favorites:
Bald Head Island
This island is truly one of a kind! Bald Head Island is a unique coastal island located on the Cape Fear River. It holds a special treasure to the state of North Carolina because it contains the oldest lighthouse in the state, 'Old Baldy.'
Another unique thing about Bald Head Island is the fact that it has an extremely small population of only 155 permanent residents.
It is super important to know that Bald Head Island does not allow cars. Everyone gets to the island by boat, whether it be the ferry or your own personal boat coming from another beach area. When you get to the island, the only way of transportation is by walking, bike, or golf cart!
If you are thinking of exploring Bald Head, you are really going to explore the nature and wildlife that is on the island. It is not a super known place to visit or live. The island just built its first school in August 2022.
Even though Bald Head Island moves the old-fashioned way, it is definitely a one-of-a-kind place and is well worth the visit!
Local Favorites: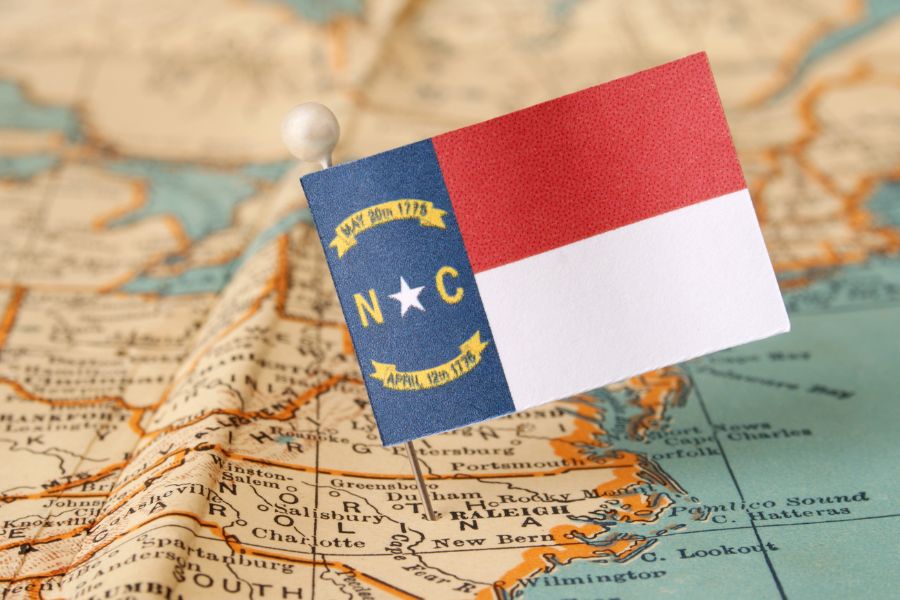 Best Beaches Near Raleigh - Final Thoughts
Who doesn't love living in a city that is only a short drive from the coast? You can wake up one morning and easily take a day trip to any of the beaches listed above.
As you read through the guide, you probably noticed how most of these beaches are located close to each other but have different atmospheres. Some beach towns are more touristy and have substantial vacation spots, and some are more relaxed and isolated. Some beach towns are seasonal, and some operate all year long!
We can talk about how great each individual beach is all day long, but the only way to fully understand it is to see for yourself. However, keep in mind that we only talked about seven of the most well-known beaches on North Carolina's coast, but there are tons more! All of these beaches are within a three-hour drive from Raleigh's best suburbs and neighborhoods!
If you are considering moving to Raleigh, please contact us to connect with a local Real Estate professional to talk through the home buying or selling process. Their job is to answer any questions you may have about certain areas and advise you on Real Estate decisions.
Check out our other local area guides including, the Best Bars in Raleigh and the Best Restaurants in Raleigh!