9 Best Restaurants in Raleigh
Posted by Ryan Fitzgerald on Wednesday, February 22, 2023 at 10:47 AM
By Ryan Fitzgerald / February 22, 2023
Comment
Restaurants in Raleigh, NC
What are the best restaurants in Raleigh, NC? Whether you are looking for a place that serves breakfast, lunch, or dinner, Raleigh is full of amazing options if you are trying to decide where to have a delicious meal in Raleigh!
The city of Raleigh is the capital of North Carolina and has become a highly desired place for people to visit or relocate to. It is known as the "City of Oaks" because of the number of beautiful oak trees that line the streets. The area of Raleigh is also referred to as "The Triangle" since its part of the Research Triangle area with Durham and Chapel Hill.
Raleigh attracts people of all ages and demographics. It is full of prominent colleges and universities and major companies. Because of the popular relocation to Raleigh, it has a growth rate of 3% and has had a stable rate over the last few years. This area is going to keep growing as more businesses and residents move in.
Because of all the businesses and schools, and residents, the increase of restaurants has also been growing. Raleigh is now full of some of the best restaurants, from chain franchises to great local establishments. The city is also full of different cultures, allowing various restaurants to choose from. You can decide between Indian cuisine, Mexican cuisine, Mediterranean cuisine, Asian cuisine, American cuisine, and many more!
Here are the nine best restaurants in Raleigh!
Barcelona Wine Bar
Address: 430 West Martin Street, Raleigh, NC 27603
Hours: Monday - Friday, 4 pm -12 am; Saturday & Sunday, 11 am -12 am
This establishment is a fan favorite all around the United States. It serves rustic dishes that are a combination of Mediterranean, Spanish, and South American influences. They are also known for its extreme variety of nearly 400 different wines.
Barcelona Wine Bar prides itself on "preparing tapas both simple and elegant using the finest seasonal picks from local markets and unusual specialties from Spain and the Mediterranean." Their menu consists of a variety of Charcuterie and Cheese boards to choose from. They also have an abundance of Tapas, along with salads and entree dishes.
This establishment is a perfect option if you are seeking a restaurant to get together with your friends or a casual date night.
Beasley's Chicken and Honey
Address: 237 S. Wilmington Street, Raleigh, NC 27601
Hours: Sunday & Monday, 11:30 am - 8 pm; Thursday - Saturday, 11 am - 9 pm; Tuesday & Wednesday, Closed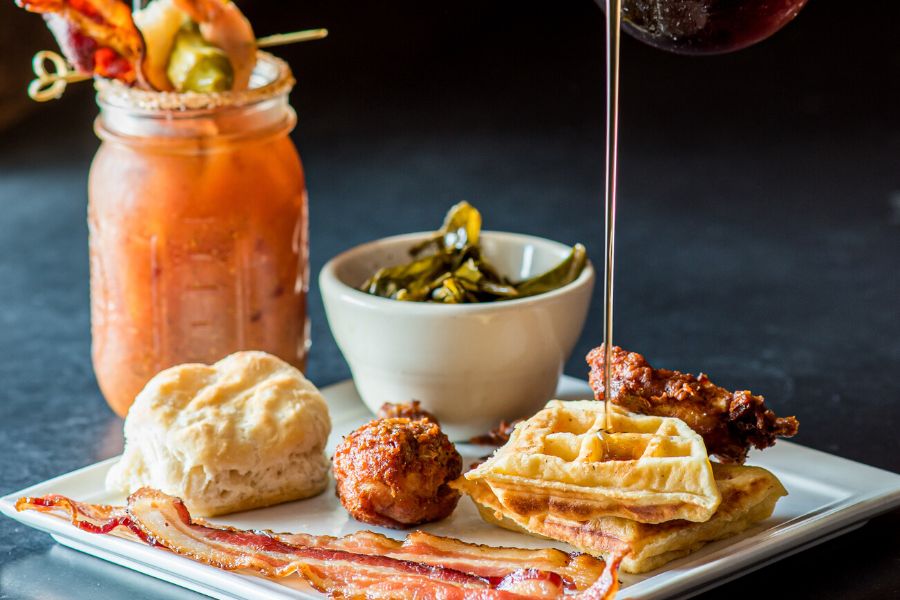 If you are looking for a restaurant in downtown Raleigh that is a casual setting, Beasley's Chicken and Honey is the perfect destination. They are known for their amazing Chicken and Waffles. Although, they have other great options like Pork Shoulder Meatloaf, Chicken Pot Pie, sandwiches, Hummus, wings, salads, and more!
Beasley's Chicken and Honey is open for brunch on Saturday and Sunday from 11 am to 3 pm. They also have a good selection of cocktails, beer, and wine. This is the perfect spot to go to with your family for brunch!
Brewery Bhavana
Address: 218 S. Blount Street, Raleigh, NC 27601
Hours: Wednesday & Thursday, 11:30 am - 10 pm; Friday & Saturday, 11:30 am - 11 pm; Sunday 11:30 am - 9 pm; Monday & Tuesday, Closed
Brewery Bhavana has an exquisite brewery scenery. As soon as you walk in the doors, you are met with so much natural light with beautiful drapes throughout the restaurant.
Bhavana has a great variety of different kinds of beer on tap. They have German Black Lagers, India Pale Ales, Stouts, Pilsners, Ales, and more! If you are not a fan of beer, don't worry! Bhavana has an extensive cocktail menu with a handful of handmade liquor drinks. All of these cocktails are made with love and are very unique.
Bhavana is unique in a way that they serve a specific menu between the hours of 2 and 4. They have food like cabbage rolls, dumplings, and bao! They call it "dim sum," which translates to "touch the heart." Their dinner menu consists of the dim sum menu and entrees like crab fried rice, pork belly rice cakes, Tso chicken, tofu, Lo Mein, and more!
Trophy Brewing and Pizza
Address: 827 W. Morgan Street, Raleigh, NC 27603
Hours: Monday - Thursday, 4 pm - 10 pm; Friday & Saturday, 12 pm - 11 pm; Sunday, 12 pm - 6 pm
This rustic parlor is located right on the outskirts of downtown Raleigh. If you are looking for an establishment to enjoy your time with your friends and family, this is the place to visit. They have a large outdoor patio with an abundance of seating options. Trophy is located in a more peaceful area than other restaurants in the downtown area.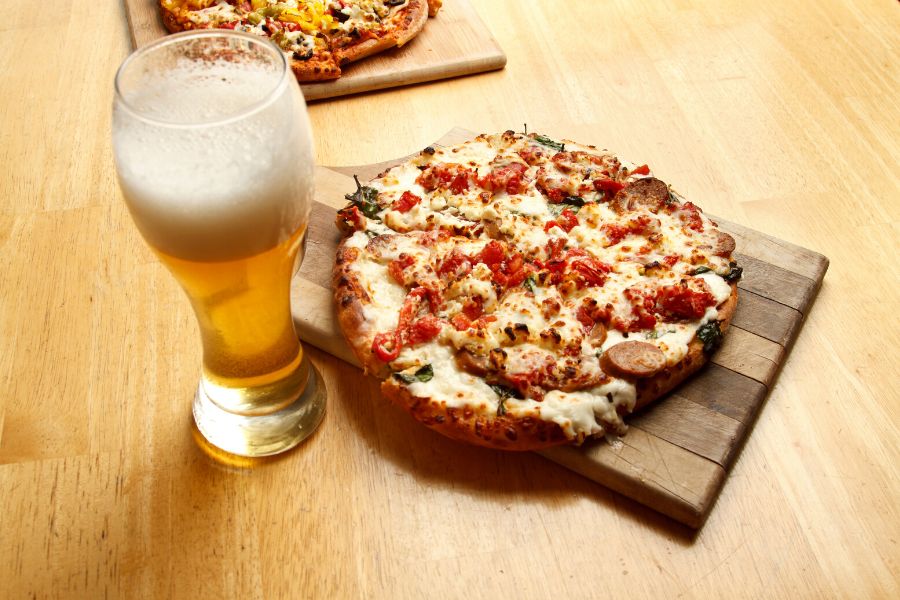 Trophy Brewing and Pizza brews its own beer and has a variety of unique beer options to choose from. You can also sample beers at this establishment to taste any beer you would like. They also have different handmade cocktails and a few frozen cocktails!
Another unique thing about this restaurant is its food menu. They have amazing pizzas to choose from. You can find your basic kinds of pizzas on the menu and also some crazy and delicious pizzas you have probably never tried! They also switch menu items in and out depending on the season or customer favorites.
The Cowfish Sushi Burger Bar
Address: 4208 Six Forks Road, Ste 100, Raleigh, NC 27609
Hours: Monday - Thursday, 11 am - 9 pm; Friday & Saturday, 11 am - 10 pm; Sunday, 11 am - 4 pm
This destination serves precisely what the title entices, a mix of great burgers and excellent sushi! The establishment has even come up with its own saying, "Burgushi," which is a combination of burgers and sushi meals.
While dining at this restaurant, you will get to experience the unique cylinder fish tank in the middle of the building. They also have a pretty cool waitlist system. More times than not, you will have to join the waitlist to get a table because of its popularity. When you join, you will be set as a different fish on their screen with a unique name like "Justin Finber." You watch your fish grow, and that is you moving up the line of the waitlist until it's your turn.
Not only does The Cowfish Sushi Burger Bar have a relaxed ambiance, but they also genuinely do have fantastic food! They are known for their bento boxes, where you can get a burger, sushi, fries, edamame, and cucumber salad. But they have other options like a sushi boat or a burger entree. The crab dip appetizer is also one of their biggest hits to start off with!
Mandolin
Address: 2519 Fairview Road, Raleigh, NC 27608
Hours: Monday - Thursday, 5:30 pm - 9 pm; Friday & Saturday, 5:30 pm - 9:30 pm; Sunday, 10:30 am - 2:30 pm, 5:30 pm - 9 pm
The owner of Mandolin, Sean Fowler, was born and raised in Raleigh. He decided to open up a Southern restaurant where his roots come from. That is when this establishment was born and has now become a local favorite in the area.
Mandolin has a soulful, comforting atmosphere making it a perfect destination for date nights, celebrations, or family/friend get-togethers. This restaurant uses the highest quality local ingredients to create each dish representing Southern food.
"At Mandolin, seasonality, sustainability, and buying local are culinary and business philosophies based on our core values of preparing the best food, using the best ingredients, supporting our local economy, and conserving our natural resources." Because of this outlook on his restaurant, Chef Fowler and his team created Mandolin Farm in North Raleigh. This is where they get their own unique and rare ingredients!
The menu at Mandolin is quite unique because it is laid out as "first course," "second course," and dessert! You can start your meal off with a Charcuterie plate, Apple Salad, Shrimp Toast, and more! Then you move on to the main meal, where you can get dishes like Duck Leg, Rosemary Spaetzle, Ribeye, and more. Some desserts that they have on their menu are Creme Brulee, Chocolate Souffle, etc.
Morgan Street Food Hall
Address: 411 W Morgan Street, Raleigh, NC 27603
Hours: Sunday - Thursday, 9 am - 10 pm; Friday & Saturday, 9 am - 12 am
Morgan Street Food Hall is the perfect destination to go to when you need help deciding on a specific place to eat at! They are known to showcase local eateries with diverse, casual offerings! This is a popular establishment in downtown Raleigh for those who like to get a quick bite or if you would like a little bit of everything to choose from.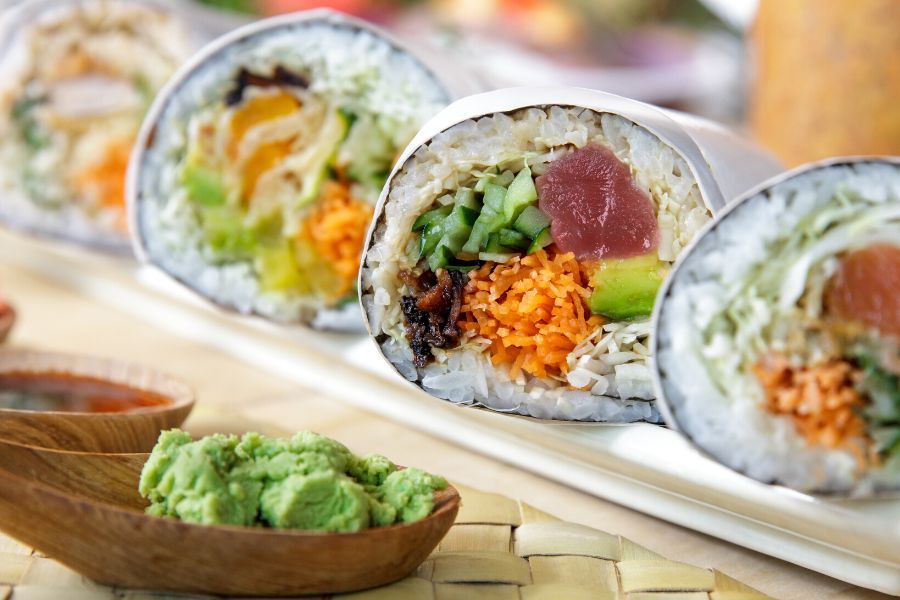 This food hall has restaurants like:
And so many more options!
At Morgan Street Food Hall, they have a full bar for you to enjoy while dining at any of the following businesses. They also have Epic Axe within the food hall if you are thinking about enjoying a fun activity before your meal or after! It is a guarantee that there is something there that everyone will enjoy within the same building.
Sullivan's Steakhouse
Address: 410 Glenwood Ave, Suite 100, Raleigh, NC 27603
Hours: Sunday - Thursday, 11 am - 10 pm; Friday & Saturday, 11 am - 11 pm
This outstanding chain steakhouse is located right in downtown Raleigh. It is a perfect place for date nights, special occasions, and holidays. Sullivan's Steakhouse offers guests a "chance to untie, unwind, and uncork."
The atmosphere of this restaurant is super welcoming and comfortable. The staff are incredibly knowledgeable about their menus and can ask any question you may have about their establishment. Sullivan's also has happy hour, Monday - Thursday, from 3 pm until 6 pm, serving $7 bar bites!
Their menus include appetizers like Cheesesteak Eggrolls, Calamari, Crab Cake, and more. They also have an intense menu of different kinds of soups and salads to pick from. You can also add a salad to any main dish item, like the steak or seafood options. At Sullivan's, you have the opportunity to enhance your steak if you would like butter, bacon & blue cheese, crab-stuffed shrimp, and more. And, of course, a delicious dessert menu.
If that isn't mouth-watering enough, they have the option to get it all at a fixed price. You get to pick one soup or salad, one entree, and then one dessert for a great price!
Wye Hill Kitchen and Brewing
Address: 201 Boylan Ave, Raleigh, NC 27603
Hours: Monday - Thursday, 11 am - 3 pm, 4 pm - 9:45 pm; Friday, 11 am - 10:45 pm, Saturday, 10 am - 2:45 pm, 4 pm - 10:45 pm; Sunday, 10 am - 2:45 pm, 4 pm - 8:45 pm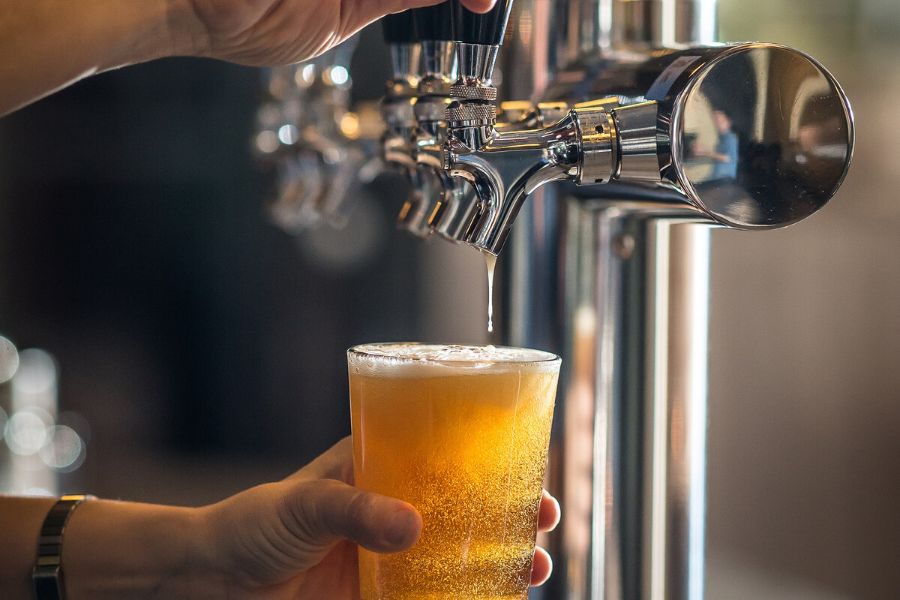 If you are seeking a restaurant that offers the most amazing views of Downtown Raleigh, Wye Hill Kitchen and Brewing is the perfect place for that! It is known to be Raleigh's favorite patio that serves amazing food and beer.
This restaurant serves brunch, lunch, and dinner! Their most popular times are around dinner time and late at night. They have dishes like Dill Pickle Pimento Cheese, Everything Brussels, Roasted Pear and Goat Cheese Salad, Brewer's Chicken Schnitzel, Turkey Burger, and more! They also have a kid's menu for those who would like to bring their families to this location.
Wye Hill has a variety of personally brewed beers that you can get on tap or in a can. You can even buy a 4-pack of some beers at the establishment. This place is a must-see and must-try if you are in the Raleigh area!
Best Places to Eat in Raleigh - Final Thoughts
As you can see from the list of best restaurants in Raleigh, most of the options are unique in their own way. Raleigh is full of different cultures and types of dishes that you can experience it all right within the city. There are so many local favorite restaurants in Downtown Raleigh and in the surronding area that it is hard to pick an absolute favorite!
Most of these restaurants are owned by the most amazing, top-notch chefs in the area! They pride themselves on using the best of the best ingredients and recipes to create a masterpiece for their customers. Raleigh truly has it all regarding the most delicious restaurants around town.
Overall, Raleigh has so much to offer for those who reside here or those who are just visiting the area. If you are considering moving to Raleigh, North Carolina, contact us to get connected with a local Real Estate Specialist! They can walk you through the buying and selling steps if you are ready to make that next move or if you want to learn more about the home buying process.
If you enjoyed this guide, visit our other local area guides inclduing, the Best Suburbs in Raleigh, the Best Neighborhoods in Raleigh, and the Best Bars in Raleigh!