7 Best Suburbs to Live in Raleigh, NC
Posted by Ryan Fitzgerald on Sunday, February 12, 2023 at 6:15 AM
By Ryan Fitzgerald / February 12, 2023
Comment
Suburbs in Raleigh
Are you considering moving to the Raleigh area but want to live in the outskirts? This guide will walk you through the seven best suburbs in Raleigh.
With Raleigh being the capital of North Carolina, it is a highly sought area for people to move to nowadays. With more people and businesses relocating to Raleigh, it has brought in an abundance of new residents! Raleigh has a population of a little over 480,000 residents and is considered to be the second largest city in North Carolina, behind Charlotte.
Because of the influx of companies moving into the Raleigh area, it is constantly bringing in employees from all over the country. Raleigh might seem like a vast city that is busy and always on the move. If you are the type of person to want to live in a quieter area, keep reading to learn about the surrounding neighborhoods of Raleigh.
Some of the best suburbs surround Raleigh! Some are highly ranked as the 'best town to raise your family' or the 'safest towns.' Most of the suburbs we will discuss in this guide are a lot smaller than the city of Raleigh. However, they are also growing fast with the number of people moving into the area!
Here are the seven best suburbs in Raleigh!
Apex
Population: 74,754
Median Household Income: $121,313
Median Home Price: $590,000
Apex has been voted one of the best places to live in North Carolina for many years now! This town is considered to be a family-friendly town because of the number of families that reside there. It is also known to be one of the safer areas that surround Raleigh.
The town of Apex is only around 12 miles from Raleigh and is about a 20-minute drive. With Apex being one of the closer towns to downtown Raleigh, more people tend to move into Apex over other towns. This suburb has had a growth rate of 28% over the last two decades.
Not only is it in a great location, but the town itself has so much to offer! There is an abundance of things to do right within city limits. They have a variety of shopping centers, great restaurants, a ton of kid-friendly activities, parks, and more! It's a great place to live with lots of affordable homes for sale.
Local Favorites:
Holly Springs
Population: 46,213
Median Household Income: $120,229
Median Home Price: $540,000
The town of Holly Springs is nestled between Apex and Fuquay-Varina. It is around 20 miles from downtown Raleigh and will take you about 30 minutes to drive. Holly Springs has become an up-and-coming town for those who need to move to the Raleigh area.
Every day people are moving into the town of Holly Springs. Compared to where many people are moving from, homes in Holly Springs are less expensive. The town has a current growth rate of 3.7 percent annually, and the population has grown by 12 percent since 2020. Holly Springs is around 17 miles and full of new businesses.
This town is known for its historical landmarks, beautiful downtown area, various public community amenities, parks, and great schools! Because of how fast this town is growing, the city is constantly bringing in new businesses! It is also home to many doctor's offices like UNC Rex, Wake Med, and Duke.
The goal of this town was to bring in anything and everything you may need daily so you don't have to leave city limits. Most of these companies, including shopping centers and dining, are all located along highway 55. Having this road go through Holly springs makes getting to different destinations extremely easy! Once you get on 55, you can go straight to Fuquay-Varina or Apex town limits.

Local Favorites:
Cary
Population: 176,987
Median Household Income: $113,782
Median Home Price: $598,000
As you can see from the large population of Cary, it is one of the more popular places to move to when relocating near Raleigh. It is considered to be one of the fastest-growing cities in the area. People are moving to Cary for job opportunities, award-winning restaurants, luxurious shopping centers, highly-ranked entertainment, and great culture!
Cary is large enough to be considered a city but small enough to have that small-town atmosphere. This city is located in the middle of North Carolina, allowing easy travel to either the west side to visit the mountains or the east side to visit the beach!
This city is located about 12 miles from downtown Raleigh. This would take around 22 minutes to drive, but only one major road, highway I-40.
One significant aspect of Cary that draws attention to people wanting to relocate to a suburb of Raleigh is the crime rate. Cary is considered to be one of the safest cities in North Carolina. It has a crime rate of 57 percent less than the national average. Because of this, Cary has become a great place for people to move their families or retire. Check out the real estate in Cary!
Local Favorites:
Fuquay-Varina
Population: 36,736
Median Household Income: $85,047
Median Home Price: $430,000
This little town used to be quiet next to Holly Springs that people hardly knew about. Because of the influx of residents and businesses in the Raleigh area, Fuquay-Varina has started to grow immensely! Every day, more homes, businesses, and people are moving into the town.
If you are seeking a town to relocate to that has that small-town feel and still has farmland, Fuquay-Varina is the place for you. The median home price in this town is less than the others because it is a newer, up-and-coming area.
Fuquay-Varina is full of history, which you may not expect because it is a "countryside" town. However, this town has tons to offer! Fuquay-Varina is known for its double downtown area. This is because it used to be two separate towns in the past before they joined together. On one side of the railroad tracks, you will find downtown Varina; on the other, you will find downtown Fuquay, formerly Fuquay Springs. Ranked the #1 safest city in North Carolina by UpHomes.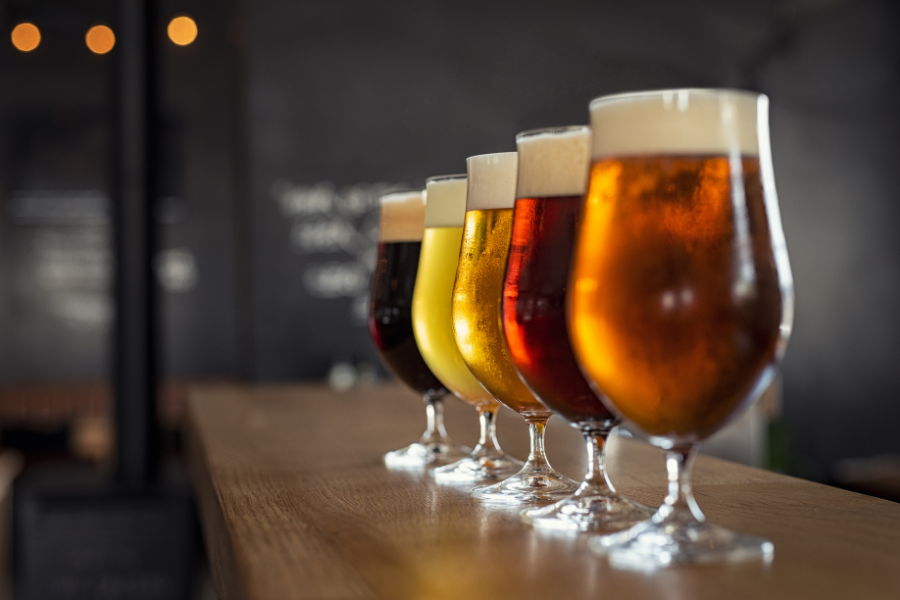 With this town having two entire downtown districts, you will find a handful of local businesses with a lot to offer!
Local Favorites:
Chapel Hill
Population: 61,128
Median Household Income: $77,037
Median Home Price: $620,000
Most people know about the city of Chapel Hill because of the college that calls it home. Located in the middle of Chapel Hill is the University of North Carolina Chapel Hill, or known as "UNC." It is a popular college for students in North Carolina and other states. Because the university is located in the town, Chapel Hill is full of things to do, restaurants, and shopping centers!
Chapel Hill is part of the Triangle area, which also includes Raleigh and Durham. This city is part of the Research Triangle Park, which is home to many large companies in industries like technology, biomedical, government, and more!
Not only is Chapel Hill an excellent place for young professionals, but it is also a popular town to raise a family! However, the downside of Chapel Hill is that the cost of living in this city is 15 percent more expensive than living in Raleigh.
That said, Chapel Hill is still a hot spot for people to move to if they want to live in the Triangle. It is unique in its own way but is well worth it. It is located near the RDU Airport, RTP, downtown Raleigh, and more!
Local Favorites:

Morrisville
Population: 31,278
Median Household Income: $106,891
Median Home Price: $550,000
Morrisville is next to Cary, NC, and is known as a 'tech town'! This town is considered one of the best places to live in North Carolina because of its low crime rate, excellent school choices, affordable living, and abundance of job opportunities!
Morrisville is a smaller town that is located right outside of Raleigh. However, Morrisville keeps growing and growing! It has grown over 150% in the last ten years. Most people moving into this town are young professionals and families that are relocating for work.
The most significant advantage of living in Morrisville is the employment opportunities and the short commute to them. This town is full of business parks that are home to some of the biggest, well-known companies. Some of those companies are Lenovo, RedEd, Ascom, and many more!
There are also a variety of fun things to do right within Morrisville town limits. With this town attracting more and more residents, it is also bringing in more businesses! Check out the homes for sale in Morrisville.
Local Favorites:
Wake Forest
Population: 49,657
Median Household Income: $104,006
Median Home Price: $540,000
Wake Forest is also considered a great place to live in North Carolina. Most people who are relocating to this city are young professionals, families, or retirees. It has something for everyone to provide a high-quality life!
Wake Forest has not been growing as fast as other towns in the Raleigh area, with a growth rate of around 3 percent. Wake Forest is located 18 miles North of Raleigh, which is about a 30-minute commute. With it being a doable daily drive, people tend to relocate to Wake Forest for a small-town feel but in close proximity to downtown Raleigh or the Research Triangle Park.
Another great thing about living in Wake Forest is the affordable cost of living. The overall cost of living is 4 percent lower than the national average. Their utility prices, transportation expenses, healthcare, and grocery prices are also all less than the national average!
Wake Forest is an ideal place to relocate for a variety of reasons. They also have several parks, delicious dining options, and family-friendly attractions! View all homes for sale in Wake Forest!
Local Favorites:
Best Suburbs in Raleigh - Our Final Thoughts

As you read this guide on the best suburbs surrounding Raleigh, North Carolina, you can understand why these towns are highly sought-after areas! They are unique in their own ways but are still short commutes to the capital city.
Every town listed above has been highly ranked when it comes to determining which area to relocate to in North Carolina. Each one is considered to be safe and a great place to live! Whichever location you decide to explore, you will be satisfied with what it has to offer including best restaurants, best bars, and beautiful outdoor areas.
If you or anyone you know are considering relocating to a suburb in Raleigh, contact us to be connected with a local Real Estate Specialist! They are a perfect tool to have when navigating through the relocation process.