Cost of Living in Raleigh, NC
Posted by Ryan Fitzgerald on Friday, March 3, 2023 at 9:54 AM
By Ryan Fitzgerald / March 3, 2023
Comment
Cost of Living in Raleigh
What is the cost of living in Raleigh, NC? If you are moving to Raleigh, here is everything you should know about the cost of living.
A great place to live, Raleigh has been a desirable place to move by people from all over the country. With nearly 70 residents moving to Raleigh on a daily basis, this city has grown immensely over the last few years. It isn't just for the warm weather, great job opportunities, and beach or mountain access but also for the city's affordability and beautiful homes for sale.
If you compare Raleigh, North Carolina, to other major cities like Los Angeles or New York City, Raleigh is more affordable regarding the cost of living. There are certain aspects to determine the cost of living in a specific place. Understanding if you will be able to afford the area you are relocating to is essential when considering where to move!
Raleigh, and its great suburbs are constantly growing. More and more people are relocating to this area as well as significant businesses! Raleigh is known for being part of Research Triangle Park as well as the neighborhing cities of Durham and Chapel Hill. The RTP has been a massive reason for many residents relocating to Raleigh.
Now let's break down what the cost of living in Raleigh truly is.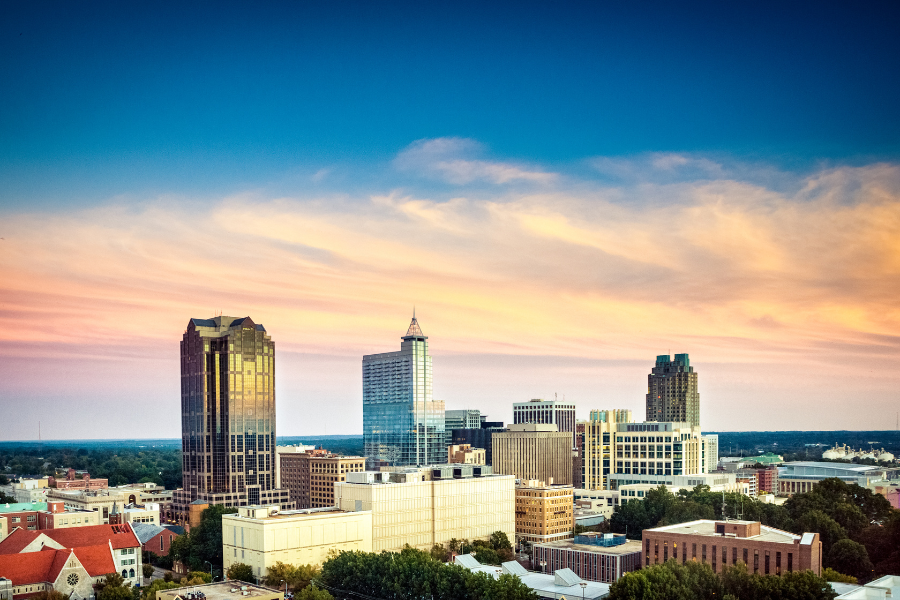 Here is the cost of living in Raleigh, NC
Overall Cost of Living
Raleigh is a great place to relocate to due to its affordable cost of living. The cost of living in Raleigh is 4 percent lower than the national average. This is great for those looking to move to an affordable "big" city.
However, we say it is affordable based on data that is the average of the city. Other factors like your annual income or budget can differentiate from the standard of Raleigh. So even though it can be an affordable place for some, that may only be the case for some.
When deciding the cost of living in a specific city, you have to look at things like paying for a home (rent or buy), groceries, transportation, utilities, health care expenses, and more. Some of these things tend to be higher in not just Raleigh but also in the surrounding regions because of the current inflation.
As you read through this guide, we hope it can help you decide if this place is right for you to move to.
Average Income
The average income will always vary depending on your job and what industry you are working in. The average household income in Raleigh, NC, is around $94,359, with a poverty rate of 13.63%.
However, Raleigh has a healthy job market. There are so many job opportunities within Raleigh itself and on the outskirts. Because Raleigh makes up a third of the Research Triangle Park, it has over 300 companies with over 60,000 workers.
Raleigh's job market will keep growing as more big businesses are planning their arrival in Raleigh. Shortly you will see companies like Apple, Google, Amazon, and Microsoft expanding into the Triangle area. This is going to bring in tons of jobs in those industries.
Real Estate Market
When determining the cost of living in a city, the real estate market plays a huge role in that aspect. Home prices and rent in big cities are usually more expensive than those who live in the outskirt suburbs. If you are considering purchasing a home or renting in Raleigh, be prepared to see that it is more expensive than the suburbs.
Raleigh is now #1 in the hottest real estate market in 2023. With an average home price of $425,000, it will just increase over the years. The home price growth is mainly because of the influx in the job market in the last couple of years.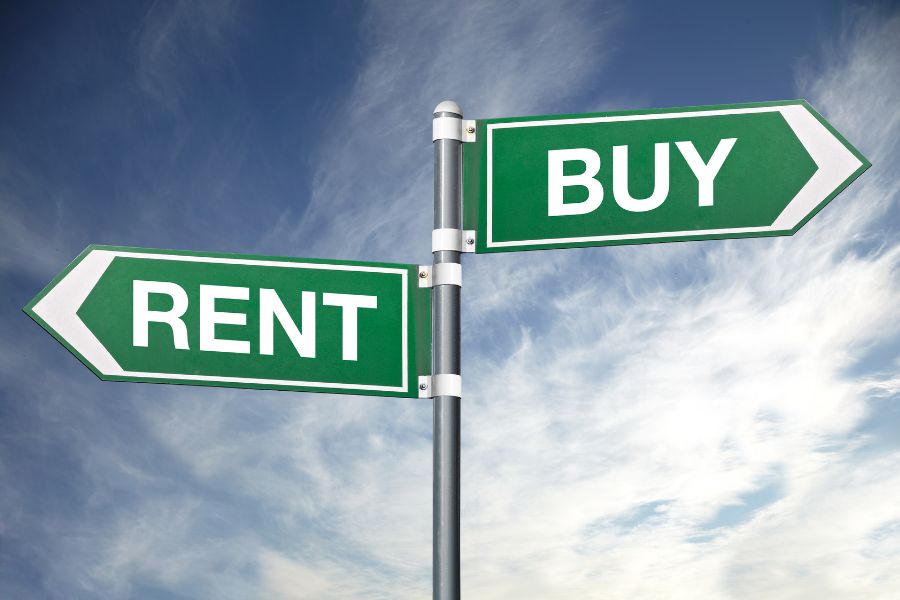 If you aren't ready to purchase a home, don't worry! Raleigh has an abundance of apartments, condominiums, or homes that are available to rent that are located in beautiful neighborhoods. The average rent for a one-bedroom apartment is around $1,630. One thing to keep in mind about an apartment, the rent changes depending on location, size, and amenities.
If you are thinking of relocating to Raleigh and would like to get connected with a local real estate professional, contact us here. Having a Realtor by your side during the home buying process will be super beneficial.
Utilities
The price of your utility payment every month will vary. On average, residents living in Raleigh spend about $174 monthly on just electricity. That adds up to around $2,000 per year.
However, each electric rate is typically not the same every month but should be around the same price. Raleigh's average is around 14 percent lower than the national average electric bill.
Other factors are under the "utilities" category, like water and gas. These all differ depending on what type of appliances and systems you have in your household. For example, people with a gas stove will have a higher gas bill, and people with an electric stove will have a higher electric bill.
Just to let you know, the weather and seasons can impact your utility bills. In the warmer spring months, people who live in Raleigh tend not to use their air conditioning because they open their windows for airflow and fresh air. Your water bill may be higher in the warmer months if you are gardening and constantly watering plants. There are a bunch of factors that play into what you will be spending on your utilities.
Food/Groceries
Depending on where you live, the food price will be different but in a similar range. If you go to more popular cities, you should expect the cost of food and groceries to be a tad higher than in other cities.
| | |
| --- | --- |
| Milk (1 Gallon) | $3.61 |
| Loaf of Bread | $3.32 |
| Rice (1 lb) | $2.19 |
| Eggs (12) | $4.27 |
| Chicken (1 lb) | $4.59 |
| Apples (1 lb) | $2.22 |
Source: Numbeo
According to the Bureau of Economic Analysis, the average annual food cost per person in North Carolina is around $3,470. This averages out to be around $289 per person per month.
However, food prices have increased by 9 percent throughout 2022 due to inflation. But besides that aspect, Raleigh is an affordable place to buy food, whether that be dining out or dining at home. Despite inflation and rising prices affecting every food in the region, food in Raleigh is still around 13 percent cheaper than national prices.
On the other hand, Raleigh is home to some of the best restaurants.Taverna Agora Greek Kitchen and Stanbury are considered to be some of the best restaurants in Downtown Raleigh.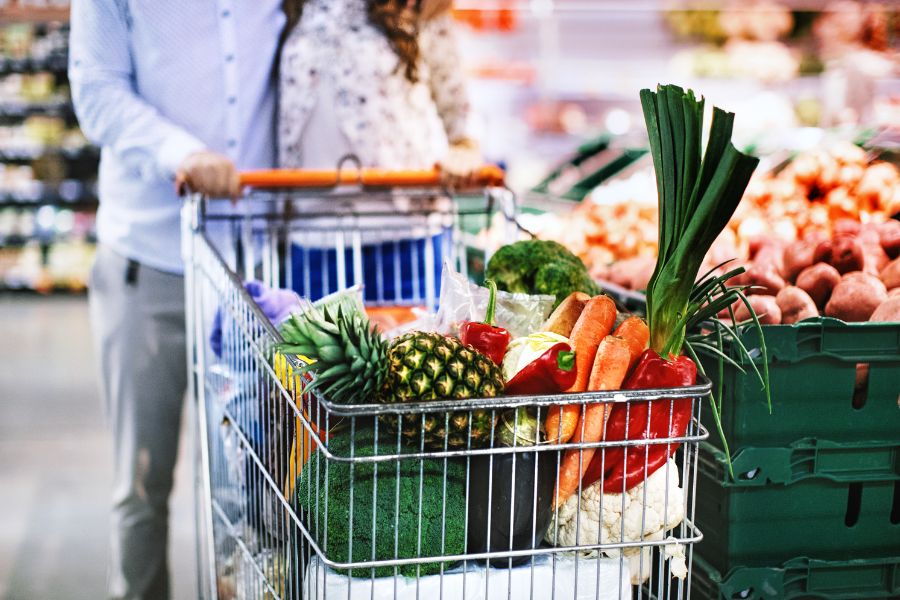 Healthcare
Something most people don't know about Raleigh is the fact that we have some of the most outstanding healthcare in the world. The Triangle is an international medical care and research center with one of the nation's highest concentrations of physicians and healthcare professionals. Industry and independent rankings consistently show our health services are among the best in the world.
In Raleigh, you will find significant healthcare providers:
Even though Raleigh is home to many excellent medical centers, the average cost of healthcare is around 3 percent higher than the national average.
| | | | | |
| --- | --- | --- | --- | --- |
| Doctor's Visit | Dentist Visit | Optometrist Visit | RX Drug | Veterinary Visit |
| $121.70 | $104.07 | $112.72 | $484.31 | $52.54 |
Source: Payscale
Those prices are, on average, what a resident in Raleigh would pay for different types of healthcare. Depending on your health insurance provider, your expenses may look slightly different.
Transportation
The public transportation in Raleigh can take you anywhere you want to go! Raleigh has a substantial public transportation system called 'GoRaleigh.' It provides transportation throughout the entire city of Raleigh. You can check the routes it takes by going to the transit map online to determine which bus you will need.
GoRaleigh fare is free until June 2023, but the fare is typically:
$1.25 for adults
$0.60 for Medicare card users
$0.60 for people with disabilities
However, GoRaleigh is always accessible for riders who fall under any of these categories:
If you are 65 years or older with a GoRaleigh ID card
If you are between the ages of 13 and 18 with a Youth GoPass
If you are 12 years or younger without ID, unless you are taller than 60 inches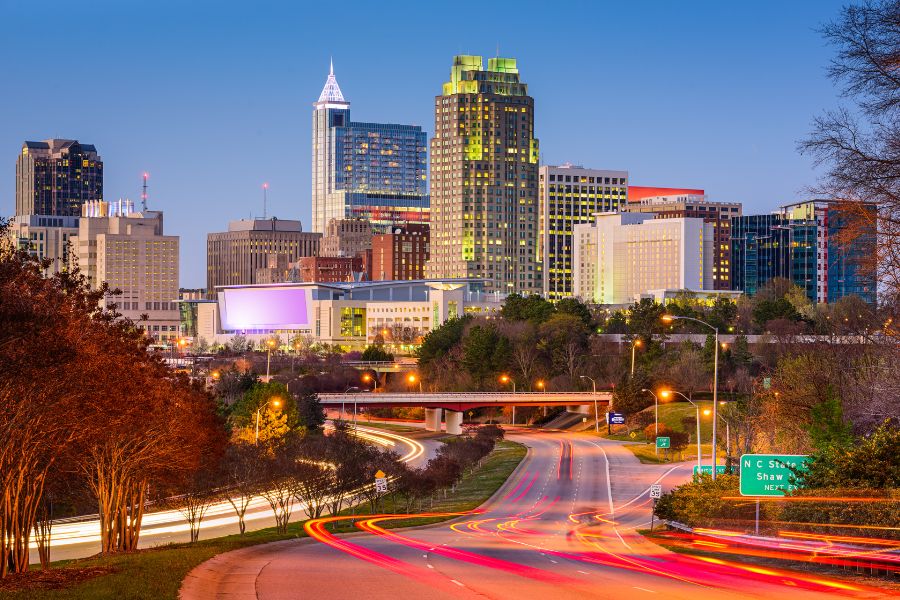 If you are using your car to get places, gas is around $3.20 per gallon on average. You can find cheaper gas in the suburbs of Raleigh if you are trying to find a place with lower prices.
Taxes
When deciding where to relocate, people would like to know about the taxes in the area. Some of the essential things you should know about the taxes in Raleigh before moving here:
For the year 2023, the income tax rate is 4.75 percent. The North Carolina Department of Revenue has plans to reduce the income tax rate to around 3.99 percent by 2027. We have already seen a decrease in this rate over the last few years.
North Carolina's property tax rates are low compared to other states in America. The average property tax rate is 0.70 percent which is less than the national average of 0.99 percent.
The sales tax in Raleigh, NC, is 7.25 percent. This is the total of state, county, and city sales tax rates. The North Carolina sales tax alone is currently 4.75 percent.
There is also no capital gains tax in North Carolina.
There is no inheritance or estate tax in North Carolina.
Overall, Wake County and North Carolina's taxes are mainly below the national average, except for the sales tax rate.
FAQ
Is Raleigh, NC, expensive to live in?
It mainly depends on whether you can afford to live in this city. Overall, the cost of living in Raleigh is less than the state average and national average. There are a lot of factors that show Raleigh being superior to other cities, but also some things that Raleigh is more expensive in. We hope this blog can help you decide if you can afford Raleigh, NC.
How much do you need to make to live in Raleigh?
It is suggested that if you are single, you make around $40,000 of annual income before taxes. If you have a child, it is ideal that you make around $80,000 in order to live comfortably in Raleigh.
Is moving to Raleigh a good idea?
If you decide to move to Raleigh, you will not be disappointed. The nice weather, the affordability, much less traffic than other big cities, and a tremendous economic opportunity. Raleigh has so much to offer; there is a reason why 70 people are moving to the city daily.
What are the downsides of living in Raleigh?
Some things people dislike most when living in Raleigh are the lack of snow, the humid weather, a somewhat high crime rate (depending on the area you are in), tough allergy season, and high tax rates. But most of these cons are the same for other cities in North Carolina or on the east coast.
What is the nicest town in Raleigh?
All of the suburbs of Raleigh are great places to live. Some of these towns have won rankings like "Safest Town to Live In" or "Best Place to Raise a Family."
Cost of Living in Raleigh - Our Last Thoughts
If you are considering moving to Raleigh, we hope you found this article helpful in guiding you through the cost of living in this city. There are pros and cons to every area you look into, but Raleigh is mostly pros.
This city offers a great life if you are up for it. It has tons of housing options, tons of great restaurants and bars, an abundance of job opportunities throughout the Triangle, great suburbs, a large public transportation system, and so much more.
If you would like to learn more about the housing maket in Raleigh, we are here to help and answer any questions.